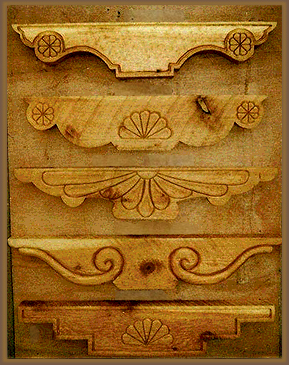 Hello, I am Joseph Lujan, owner of Lujan's Custom Carving. I have had a love of carving and making things with wood since I was in a woodworking class in high school. I made some mirror frames and a few cedar boxes in that class, never guessing where that would lead. My family was very involved in construction at that time, so I worked in construction as well for some years, Although I was good at construction work, I found myself wanting to make things with wood, so as a hobby I started to make lamps, stools, and chairs and tables with latillas for my personal use. I went back and forth between working construction, rebuilding equipment, crushing cars, and making furniture for many years, all the time carving wood and making furniture and accessories as a hobby.

Eventually I got a job carving custom posts and corbels in 2000. Finally I was able to use my passion for wood carving working for Southwest Spiral Design. While I was working there, I learned to carve many different kinds of designs. As time went on I started to work with different customers designing and carving custom orders for them, and finally, in 2005 it was time for me to move on, and open a wood carving business of my own. I invested in everything I thought I would need including materials, and came to an agreement to display display my work where I purchased materials. With that, I took a chance on a dream and Lujan's Custom Carving was born!

I have been building up little by little creating my own version of the American Dream! As time went on, I made many changes in my carving methods because I believed I could simplify how I do things in order to be more productive and and to create more structurally sound and eye appealing products. Now I have all my own designs. I can also duplicate designs from photos and carve pieces to match existing elements.

Since Lujan's Custom Carving has been open I have carved many spiral posts, hearts posts that include newels, and railings. I carve a territorial post that is very similar to the one Spiral Design used to have, however, my posts are not carved as deep, and have a bigger ring to prevent them from breaking easily.

These spiral posts are quite striking on houses with pitched roofs. I also have designed all styles of posts to receive railings. Any of my posts can be combined with railings according to the customers' preferences. I have also changed the design of my corbels to create a more uniform look, so that they have the same size step before the patterns start, and am happy to carve designs on them. Last but not least I also make accessories and furniture pieces. I have basic table bases which can be adapted as coffee tables or dining tables and a TV stand that has three spiral legs and a rope carved along the top. I am currently in the process of designing an end table with a lamp with rope carvings. I am always happy to work with my customers to create something new, or adapt an existing design to work for them.

Below you will find photos of many of my post and corbel designs. Please feel free to email me or call me with any questions.


Carved Posts
Pictured Left to Right
(4 x 4 x 8 • 6 x 6 x 8 • 8 x 8 x 8)


| | | | | | |
| --- | --- | --- | --- | --- | --- |
| Viga | $75.50 | | $84.00 | | $120.00 |
| Octagonal | $62.00 | | $72.00 | | $96.00 |
| Territorial | $75.50 | | $84.00 | | $120.00 |
| Quadsquare | $116.75 | | $126.00 | | $174.00 |
| Heart | $103.00 | | $114.00 | | $162.00 |
| Vadito | $62.00 | | $72.00 | | $96.00 |
| Rosette | $104.00 | | $114.00 | | $186.00 |
| Double | $103.00 | | $114.00 | | $162.00 |
| Triple | $103.00 | | $114.00 | | $162.00 |
| Quad | $116.75 | | $126.00 | | $174.00 |

| | | |
| --- | --- | --- |
| | 4 x 6 x 30 | |
| Full ... $19.80 | Half ... $10.80 | Corner ... $24.00 |
| | 6 x 6 x 32 | |
| Full ... $23.40 | Half ... $12.60 | Corner ... $27.60 |
| | 6 x 8 x 34 | |
| Full ... $27.00 | Half ... $15.00 | Corner ... $31.20 |
| | 8 x 8 x 36 | |
| Full ... $31.80 | Half ... $17.40 | Corner ... $36.00 |
| | 8 x 10 x 38 | |
| Full ... $42.00 | Half .... $24.00 | Corner ... $48.00 |
| | 10 x 10 x 42 | |
| Full ... $63.60 | Half ... $36.00 | Corner ... $72.00 |



Column 1: El Valle, Truchas, Vadito, Zanco, Saw Tooth and El Seguro
Column 2: Vista Del Valle, El Prado, Tres Orejas, La Punta, Taos, La Guardia

Back to Services



Home | Food | Lodging | Merchants | Services | Real Estate | Art & Galleries | Entertainment | Recreation
Ski Areas | Mind-Body-Spirit | Taos Information | Local Color | Taos Pueblo | High Road to Taos | Taos Plaza | Ranchos de Taos
Scenic Beauty | Day Trips | Chili | Special Events | Taos History | Multicultures | Museums | The Enchanted Circle
The Wild West | Taos Art Colony | Plants & Wildlife | Counterculture | Turquoise | Architecture | Features | About Us | Get Listed!
Taos Unlimited Trading Post | Photo of the Week | Link of the Month | Taos Webcams | Taos Weather | Testimonials | Guestbook
Taos A to Z | Movie Locations | Sitemap | Taos Unlimited Blog | Aimee & Jean's Story Blog | Contact Us | Santa Fe Unlimited