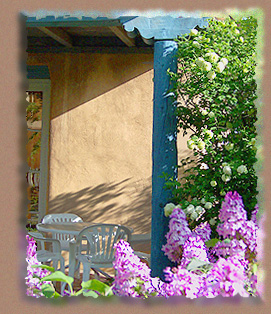 Are you looking for a Truly Santa Fe Experience?


Come and see what we have to offer at the Guadalupe Inn. We are located in the oldest neighborhood in Santa Fe which is part of the historic district.

In typical Santa Fe style, you will find relatively new construction (ours) right next to homes and businesses which have stood for years.

The Inn is exactly 6/10ths of a mile from the Historic Santa Fe Plaza, where you can visit the Georgia O'Keefe Museum, the Institute of American Indian Arts Museum and the historic Governor's Palace, where the Pueblo Indians sell their handmade art and crafts under the portal. The Plaza is also home to world-class art galleries, shopping and dining.

Nearby the Plaza is the Oldest House, the Santa Fe Convention Center, the Loretto Chapel (which houses the famous Loretto staircase) and the historic Guadalupe Santuario. Just a few blocks from the Inn is the Santa Fe Farmer's Market, the State Capitol and the new Rail Runner train which will take you in comfort and style from Albuquerque to Santa Fe. We can also direct you to Museum Hill and other nearby attractions.

The high desert and surrounding mountains are a paradise for outdoor enthusiasts. Northern New Mexico offers an abundance of recreational activities including hiking, horseback riding, hot air ballooning and white water rafting. And in the winter of course, you can enjoy downhill and cross country skiing in the Sangre de Cristo range of the Southern Rocky Mountains.

The Inn is located on a property that has been owned by one or another of our family members for over 140 years. To be honest, each of the three owners has either been born and/or raised on this property.

At the Guadalupe Inn, we offer private baths, private entrances, queen-size beds, TV, air-conditioning, and free off-street parking, but for the most part, our guests mostly thank us for our authentic traditional Santa Fe hospitality and great breakfasts.

(In 2005, The Guadalupe Inn won Arrington's Inn Traveler Magazine's "Best Breakfast in Santa Fe" Award, and in 2008 and 2009, The Inn won the U.S. Local Business Association's" Best of Santa Fe B & B" Award.)

Start your hearty breakfast with coffee or tea, juice, fruit, and homemade breads, followed by your choice of huevos rancheros, a breakfast burrito, an omelette, oatmeal, or pancakes. Sometimes we'll even make French toast. All our breakfasts are prepared using the same recipes and techniques that we learned from our parents, grandparents and other family members and friends who were native New Mexicans.

We enjoy spending time with our guests, sharing what we know of the history or current happenings in and around Santa Fe, along with stories of our family and friends. If you are looking for a four-star property with all the amenities, waiters, bellhops, room service and a hefty price tag, we are not for you. But if you enjoy traditional hospitality in a casual atmosphere, than come and stay with us the next time you visit Santa Fe...we would love to meet you!